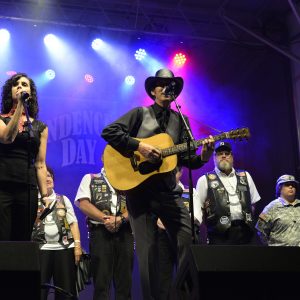 Fisher House Benefit

| | |
| --- | --- |
| | Lightnin' Charlie |
| | February 29, 2020 |
| | 7:00 pm |
| | Bristol, TN |
| | 423 Social |
| | Google Map |
Lightnin' Charlie and Beth will be performing a set at the 8th Annual Bristol Marathon Jam benefiting the Fisher House of Fort Bragg, NC, at 423 Social in Bristol, TN. Rolling from Noon till Midnight (LC & Beth's set will be from 7 to 7:45pm), with many other topnotch performers scheduled to perform.
Fisher House has received sixteen 4-star ratings in a row for their fiscal responsibility in seeing that money donated FOR veterans actually goes TO veterans. This coveted rating from Charity Navigator, the nation's premier charity rating agency, praises Fisher House Foundation with another thumbs up after the non-profit received its 4-star rating for the 16th straight year. The coveted rating places Fisher House among the top non-profits in the nation.
Donations are welcome at the door.
All proceeds to benefit Fisher House of Fort Bragg, NC, providing housing for military families during their times of greatest need.
423 Social
250 N Raceway Villa Dr.
Bristol, TN 37620