Kathy's Song
      On a balmy, summer Saturday in July of 2020, I was driving to a little blues club in downtown Bristol, Tennessee with a heavy heart. I was on my way to do a solo dinner show in their outdoor courtyard. But there was something very different about this night – and this ride to the gig – that separated it from probably 10,000 others just like it, and made it into one I'll never forget. While en route to this show, I was a complete and total wreck. To clarify, I wasn't in a wreck, I was a wreck…a broken, beaten, emotional wreck. I found myself in a predicament impossible for me to overcome, and was left with no options except throwing myself fully at God's feet, and praying that He'd intervene and do His thing. And friends, our Father is faithful and true about doing His thing–––which is to rescue and save. My only hope in times of trouble, that night and every night, is Yahweh the Lord of hosts – the Mighty One of Israel, and I was calling out for Him to save the day for His child. Here's His promise for such a time as this from Isaiah (who will figure prominently in our story):
"Fear not, for I am with you;
be not dismayed, for I am your God;
I will strengthen you, I will help you,
I will uphold you with my righteous right hand." – Isaiah 41:10
       And guess what? My God not only kept His promise, but He did so in such a mighty, miraculous, and inexplicable way (all typical of Him) that once again I'm astounded at being the unworthy recipient of such grace and the beloved child of such a magnificent and omnipotent Father!
       On Sunday, the following morning, Beth and I were to preside at my sister Kathy's Celebration of Life in Maryville, Tennessee, which was intended to be a laid-back, lighthearted affair, and I was really struggling to keep it together. All that week while working on the songs and eulogy for her service, I couldn't get through hardly a sentence without crying. Beth and I sing at lots of funerals, and we have done many funerals for many family members – too many – and at all, or almost all of them, at some point I've become emotional and choked up while speaking or singing. But while preparing for this one, things were markedly different. I was in such a shambles that I couldn't even practice my part. I couldn't sing, couldn't look at a photograph of my sister, couldn't put her name in a sentence without breaking down. I was a mess. One song I was learning for the service that was definitely going to be a train wreck was "Kathy's Song" by Paul Simon. It was so sweet and beautiful that I felt I had to do it, but I couldn't sing a line of it – even in practice – without bawling. I had spoken and sung at my brother Billy's funeral in 2007, and held up pretty well (until it was over), and perhaps there was a cumulative effect in grief to now be conducting this service for my only other sibling. I don't know. Grief is a mysterious malady. It might not be a stretch to suggest that I was a bit depressed too. By this time, I had been dealing with four months of unemployment and quarantine due to Covid, Beth was going to work on the front lines every day in a HAZMAT suit as a home health physical therapist, we were homeschooling our 10 year old daughter Lily, and getting our son Sam ready to leave home for college 300 miles away. On top of all this was me being the full-time caregiver to my 87 year-old mother, who lives with us, and is suffering with dementia. This is the most difficult thing of all. In spite of her being at Kathy's bedside, and holding her hand as she passed away, the very next day my mother didn't remember Kathy had died, and I was the one who had to tell her all over again, for the first time. So we had our plates full.
       Another difficulty was that I was leading this service all by myself, along with Beth, without the aid and comfort of a minister. I was flying solo, without a safety net, and my heart was broken. A few months prior, I had presided over my Uncle Bobby's funeral without a minister leading the service, and somehow managed to hold it together pretty well (until it was over). But this was the only time I can remember that I couldn't even prepare myself for the job. I loved my sister dearly, and was devastated by her passing. And certainly all that led up to it compounded my emotional paralyzation. There was the initial lung cancer diagnosis. Then the treatment plan of chemotherapy, which the doctors were confident had a good chance of success. What followed was supposed to be a routine outpatient surgery to insert a port for the chemotherapy. But the routine outpatient surgery turned into Kathy hemorrhaging on the operating table, and flat-lining for eight full minutes before being resuscitated. While her brain was deprived of oxygen for eight minutes, she suffered a heart attack and multiple strokes. Then came the absolute miracle of her fighting all the way back from death itself, and coming out of the resulting coma after weeks in ICU. Plans for chemotherapy and any hopes of managing the cancer were abandoned, and eight months of home hospice care followed. During this time, she was often confused, but she also became very sweet and child-like, and amazingly her beautiful sense of humor never left her. We are all thankful for the gift of those eight months we had with our Kathy. She finally passed away peacefully into the arms of her Savior – gloriously at 3:16pm on a June afternoon – with her family and myself gathered at her beside. All these things combined to put me in pitiful shape and in no condition to lead and sing a lighthearted service.
       On that aforementioned Saturday afternoon, on the eve of Kathy's celebration, I was so scatter-brained and wrapped up in grief, that I had completely forgotten about having a show to do in Bristol that evening. I would've no-showed completely had I not accidentally seen the gig on my calendar at the last minute. But there are no "accidents" with God, as we shall see.
       I had rushed around frantically to get everything I needed for the gig and get out the door, and was more than a little aggravated at having to perform a show for people the night before the service. Driving to Bristol, I was a basket case, and it all dawned on me, settling in my mind with all certainty, that as far as the following morning was concerned, I was in trouble. My realization came to me with a thud that the chances of me getting through Kathy's service the next morning without falling apart at the seams was zero to none. 100% impossible. I had been writing out and practicing the eulogy and the songs all week, trying my best to prepare, but now I knew, as sure as I was born, that I wouldn't get through one sentence the next day. And having tried very hard to pull it all together, I had landed at that beautiful spot where I had no hope in myself, no confidence in my own skill, no reliance upon my own strength, and I knew – beyond any and all doubt – that no matter what I did or tried to do, that there was no possibility of me succeeding by pulling up on my own bootstraps. I needed to pull down on His and I needed Him now. Right now. I simply could not do it, but praise God, I knew a Man who could! This was my condition, on the road to Bristol, to a street called State (a tip of my hat here to Saul on his road to Damascus and the street called Straight!). After all my practicing and preparing and praying, I had finally arrived at that holy place where I was completely dependent on God and brought nothing to the table of my own. I needed grace, I needed Him, and I knew that without Him, I would surely fail. I didn't need Him to "help" me – I needed Him to do it FOR me.
       Kathy's service was meant to be a Celebration of Life and not a funeral. She would've wanted a lighthearted, happy affair, and would've hated anything remotely solemn or sad. It was intentionally being held outside of church, in a gorgeous outdoor venue overlooking the Great Smoky Mountains. The family had decided not to use a minister for the service, because Kathy was not a member of a local church, and therefore any minister who was brought in to lead the service would not have known Kathy at all. So my brother-in-law Tony, and my niece Michele both thought that it would be much more fitting to have Beth and I do it. They asked that it be kept very informal and cheerful, because my sister was informal and cheerful, and it wouldn't have been Kathy's wishes for it to be heavy or depressing. So we had the plan for the service, and I understood my role in it. My job, alongside my wife Beth (who is a Rock), was to preside over the one-hour service, to speak and sing, to lead prayer and tell stories, to read memories her grandkids had written, and to open the floor to anyone who wished to speak about their relationship and their memories of Kathy. My personal goal was that everything we said and sung would be a source of light and comfort and encouragement to those there, and my task that day was – as it always is – to point everyone, clearly and confidently, to the Source of all Light, Comfort, and Cheer, to the Giver of all good and perfect gifts. So for me to come in there and blubber and sob through every syllable and song would've been an outright disaster, not just for me, but for my family. My job was to be lighthearted and cheerful and be uplifting. I needed to be of service to my family, to my Mother who had now lost her second of three children, to my brother-in-law who had been married to my sister for almost 50 years, to my niece and nephew who had lost their mother, and to all of Kathy's friends and family gathered there. But most of all, my job was to honor my sister Kathy and my Lord Jesus Christ, and I couldn't do that if I couldn't speak or sing a single word.
       As I was driving to this gig I had forgotten about, I knew that everyone was counting on me, needing me to keep it together the next day, to make it the lighthearted celebration it was supposed to be, and I knew that I was going to fall apart the minute I opened my mouth. And as I was crying out to God for help, that's when God spoke to me. Clearly spoke to me. I don't say that frivolously. It came into my spirit – via His Holy Spirit – clear as a bell, to ask Him to "set my face like flint" for the task before me. Those were the exact words I heard Him say.
       So my forty-five minute drive to the gig was filled with me begging my Father to help me, by His Holy Spirit and in the name of His Son, with the words "set my face like flint" pouring from my mind and spirit. Yes my heart was broken, yes my body was weak, but my face was to be set firm like a tree planted by the water, and my mind would not be moved by emotion to the point of breakdown. He would do it for me and would not let me fail. Like an athlete before the big game, my mind needed to be focused and set firm, sharp and hard like flint rock. I was determined to honor my sister, edify my family, and glorify my God, but I needed a "game face" to succeed and get through it, and I knew then – that if I asked Him – He would surely do it. Maybe this all sounds simple and sophomoric to you, like a high school football coach's pep talk to his team getting fired up for Friday Night Lights, but it came as a revelation to me. It was the Answer, straight from my Captain, spoken to me by my Helper, and just in the nick of time too. Having heard these words from God, I wondered if "setting one's face like flint" was in Scripture. I didn't recognize the phrase as being from the Bible, but thought it must be, and having arrived at my gig (and a bit behind schedule), I planned to google that phrase the minute I got back in the car to drive home. I just had to get this gig behind me.
      The show went okay. The covered patio was full and there were several people who came with lawn chairs and spread out on the small grassy lawn in front of the stage that doubled as a dance floor. I tried to fly through it on "auto-pilot" and avoid any songs or subjects that might trigger me. I had lots of old friends there, and a kind, responsive audience, so that helped a whole lot. I steered clear of anything too "deep", so I sung lots of old songs about Peggy Sue, wooden Indians, careless loves, and the twist. I even did a request for a little boy who was there eating dinner with his parents. As I was taking requests from the audience, I asked him what his favorite song was, and he told me. And that's probably the only time "The Wheels On The Bus" was ever played at Delta Blues and BBQ in Bristol, Tennessee!
       About halfway through my two-hour show, a grizzly old guy in his late 60s, long-haired, bearded, carrying a backpack, and looking very much to be homeless, wandered onto the lawn directly in front of me and sat down by himself on the ground among all the other folks. The outdoor stage was behind the restaurant, open and freely accessible to the public, so folks could just come in from off the street to watch the show. This fellow had apparently been walking around downtown, saw the happenings, and decided to come and sit down. He sat right in front of me, enjoying the show, clapping and cheering and requesting Beatles songs ("Norwegian Wood" was one I remember), and I enjoyed bantering with him from the stage. I played several of his Beatles requests, much to his delight, thinking to myself of the "entertaining angels unawares" verse in Hebrews, and was glad when a lady sitting by him even asked him to dance! They danced around happily on the grass, having a good time, while I sang and played and counted the minutes until I could get finished, load out, and get into my car and type the phrase God had spoken to me ("set my face like flint") into the google search bar. Then I would drive home thanking God for doing just that so I could be about His business at Kathy's celebration the next day.
       I had arranged with the boss to let me leave 30 minutes early, because of traveling to the service the next morning, and all that went with it, so I was kind of in a hurry to get out of there (that's also why I didn't take the time in the car to look for my verse when I arrived…I needed to hurry and get set up to start my show 30 minutes early so I could leave 30 minutes early). When I finished, and was quickly packing up to leave, people were coming up to the stage, thanking me, tipping me, some buying CDs and saying "Good show!", and the like, and one of the folks that meandered up was the old drifter dude. He saw others putting money into my tip jar and told me he was sorry he didn't have any money to tip me with, but told me I had really "BLESSED" him. (I must say that the term "blessed" surprised me, coming from this homeless old hippie, who had been dancing happily in the grass, and requesting Beatles songs!) Then he said he was an artist and had something for me and, unzipping his backpack, handed me a copy of a drawing he had done. It was a man's face, bearded and ancient-looking, surrounded by flames. I said something profound like, "Wow man, that's great!" and told him sincerely what a marvelous gift this was – better than money – and asked him who the man in the drawing was. He told me it was the prophet Isaiah (now I'm VERY surprised at the terms coming out of his mouth!). "Isaiah?!!?" I asked. "Yep!" he loquaciously replied. I said, "I think there's a verse in Isaiah about flames and floods not overcoming His chosen ones…is that what you were depicting here?" "Could be…", he said with a shrug. So I thanked him again, telling him how much it meant to me, put Isaiah into my guitar case along with my guitar, and then apologizing for running off, I said goodnight and left, not even getting his name.
       Here is the scripture in Isaiah that speaks of rivers not overtaking you and flames not scorching you. It is not only important as every word in Scripture is important, but it is important to our story, as you are about to see:
But now, thus says the Lord,
who created you, O Jacob,
and He who formed you, O Israel:
"Fear not, for I have redeemed you;
I have called you by your name; You are Mine.
When you pass through the waters, I will be with you;
And through the rivers, they shall not overflow you.
When you walk through the fire, you shall not be burned,
Nor shall the flame scorch you. For I am the Lord your God,
The Holy One of Israel, your Savior." – Isaiah 43:1-3a
       I hurried to my car, and once loaded up and inside, I started her up and anxiously typed "set my mind like flint Bible" into the google search bar on my phone, anxious to see if the word I heard from God was in the Word of God. Can you imagine my shock and amazement when the first thing that came up was this verse – not only was it in the Bible – but from the book of ISAIAH???
"

I gave My back to those who struck

Me,
And My cheeks to those who plucked out the beard;
I did not hide My face from shame and spitting.
For the Lord God will help Me;
Therefore I will not be disgraced;
Therefore I have SET MY FACE LIKE FLINT,
And I know that I will not be ashamed." – Isaiah 50:6-7 (caps added)

       Say Amen somebody!!! I sat there dumbfounded at the glory of my God! Sitting inside a black Lincoln limousine in a downtown Bristol parking lot was a broken man at the end of his rope, whom God had chosen and spoken to and redeemed, and to whom God had sent another man – one who didn't travel in a limousine – to deliver a message and a confirmation, so that there could be no doubt about it. I'm glad a cop didn't see me crying and shouting and waving my hands in my parked car, and come asking for an explanation!
       For anyone reading this who would attribute such a thing to chance, I am so glad you're here!!! Listen – Isaiah is one of sixty-six books in the Bible. The phrase "set my face like flint" only occurs once in the entire Bible (Isaiah 50:7), but is alluded to once more in the Gospel of Luke (9:51), where Jesus "steadfastly set his face to go to Jerusalem", on His way to His crucifixion and His death as a substitute for you and me. He needed His Father to help Him, just like I needed our Father to help me! The phrase "set my face like flint", that God plainly spoke to me that evening before I even knew that phrase was IN the Bible occurs only once – or twice if you count the verse in Luke – and there are 31,102 verses in the Bible. Wow! So either way, the odds are awfully long for any doubters out there! But if you're still not convinced by these insurmountable, supernatural numbers, I would invite you to roam the streets of Bristol, or any downtown street where you live, and find a homeless sketch artist/Beatles fan who will sit down in front of you and give you a hand-drawn portrait of the prophet Isaiah, the only book in the Bible in which the exact term occurs (1 in 31,102) that was clearly spoken to me in my spirit hours before, as a means to fix my problem. Go ahead…I'll wait!
       It is obvious to anyone with eyes to see and ears to hear, that the speaker in the text of Isaiah 50 is Jesus Himself, in spite of it being written more than 700 years before His birth. His arrest and crucifixion is foretold here in great detail. There are tons of other places in the Old Testament, prophesying and foretelling in INTRICATE detail Jesus' birth, life, death, crucifixion, burial, and resurrection. Psalm 22 is a great example of this, written 1000 years before Christ's birth, and describing His crucifixion before crucifixion had even been invented. In spite of Jesus not yet being born (in the earthly sense) when the Old Testament was being written, He is present in the entire Bible. He authored the entire Bible. He is in every word of the Bible because He IS the Word. The Word that was in the beginning, that was with God, and that is God! He is the Alpha and the Omega, the beginning and the end, and He is from everlasting to everlasting, so even before Abraham was, I AM! Hallelujah! It's all about Jesus!
       Understatement alert: I drove home that night with a completely different spirit than I left home with! Now it was faith over fear. I was filled with the knowledge and the blessed assurance of His promise to be there with me tomorrow, and I had nothing to fear. He had redeemed me, He calls me by my name, He will set my face like flint, and I know that I will not be ashamed, for I am His! Glory to God in the highest! And worthy is the Lamb who was slain! What a Savior and what a God and what a friend we have in times of trouble!
       To tell the end of this story is almost anti-climactic in that you already know how wonderfully Kathy's service went – even before I tell you – because God had already told me (and showed me)! The following day, Beth and I were able to do just what we were called to do, and it was beautiful, good and perfect. And you know the best part? We didn't have a thing to do with it! He set my face like flint, and He stayed right with us to deliver the message and the eulogy. He upheld me with His Mighty Right Hand to sing the songs (even the achingly beautiful "Kathy's Song"!). Beth was right by my side too, being the rock-steady source of love and support that she's always been to me. She's very much like God in that, but He's bigger!
       I believe the celebration service encouraged and uplifted everyone, and was just what it was intended to be: a celebration. Kathy was a wonderful, complex, loving, sweet, funny, straightforward, give you the shirt off her back type of person, and as I write this on October 16th, 2020 – on what would've been her 67th birthday – I am oh so grateful to God that He gave her to me to be my sister. And because of what He did on Calvary, we will see each other again – in newness of life – soon and very soon.
       So until then, I set my face like flint – just as He set His face like flint for me – and press on toward the goal, which is Yeshua Messiah, the Lord Himself. Don't doubt Him. Don't ever doubt Him. Don't think you can make it on your own, because you can't. Don't think you're fighting your battle all alone, because you aren't. He has redeemed you, He calls you by name, He will uphold you, He will strengthen you, He will be your God, and He will never ever leave your side.
"O you redeemed ones, on whose behalf this strong resolve was made—you who have been bought by the precious blood of this steadfast, resolute Redeemer—come and think awhile of Him, that your hearts may burn within you and that your faces may be set like flints to live and die for Him who lived and died for you!" –

Charles Spurgeon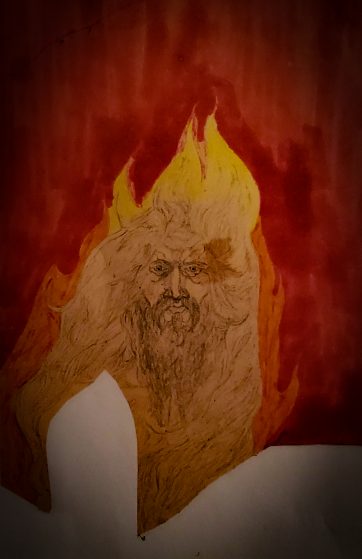 "Isaiah" – Artist Unknown
(unknown to Charlie, but known to God)
Dedicated to Kathy
October 16, 1953 – June 26, 2020
I love you.